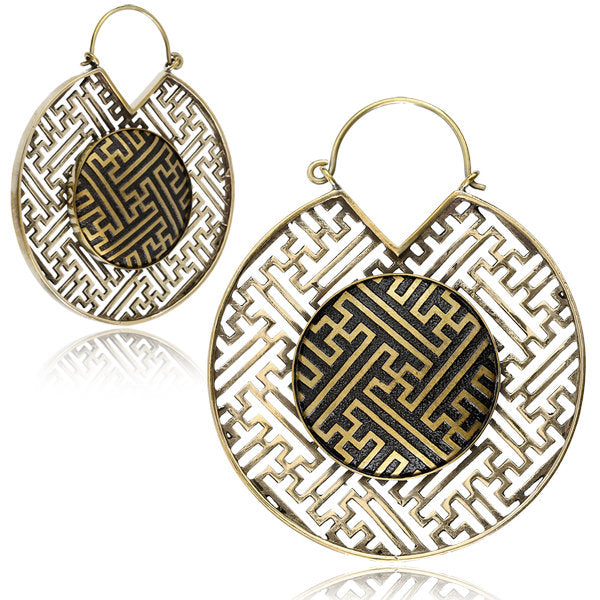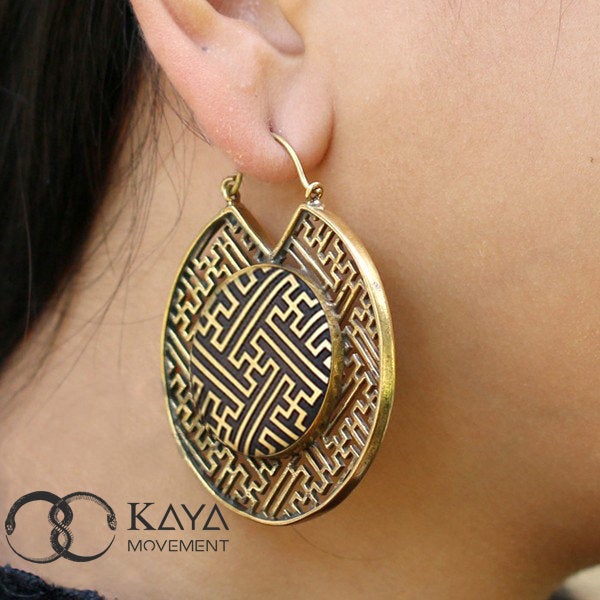 ATA Geometric Sayagata Disc Earrings in Gold | 18 gauge
Oversized gold statement earrings carved with sacred geometry design inspired by ancient Sayagata tribal pattern, a sacred and spiritual symbol that came to Japan in the 1500s.  Sayagata is an ancient pattern of interlocking swastikas, manji 万字 (卍) which represents life and strength. Made for those who love to stand out with extra large hoop earrings or gold disc earrings.
Can be worn as standard earrings or through a tunnel.
Material
Yellow Brass
Gauge
1mm (18g)
Size & Weight
Diameter: 45mm
Weight: 15g per piece
Closure
Closed hoop style with snap latch back for secure closing.
All our jewelry is packaged and sent in an elegant, reusable box which is also perfect as gift packaging.
Have questions about size?
Get in touch with us anytime. Everyone's anatomy is unique so be sure to measure before deciding.
ATA Geometric Sayagata Disc Earrings in Gold | 18 gauge
Fast shipping
All orders are shipped within 48 hours using Standard Shipping with Tracking Number via France LaPoste Service.
Order tracking
Once your order is shipped, you'll receive a tracking number so you can keep tabs on your parcel's movements.
Easy 14 day returns
Could be better? We're always reachable and happy to assist in any way.
Nice earrings, they are heavy
Nice earrings, they are heavy
Cerebral Design, Conscious Craft
My aesthetics are influenced by cyborg & biomechanical forms, post-apocalyptic & dystopian worlds, neo tribal punk aesthetics, visionary art, fractal patterns and sacred symbols. Working as a cross-discipline designer, I apply 3D design & printing, Illustrator, lost wax casting, and hand-tailoring in creating beautiful hybrid designs. As an emerging sustainable brand, my collections are ethically produced in small batches in a slow and meaningful way.
Explore the Movement
Explore other collections