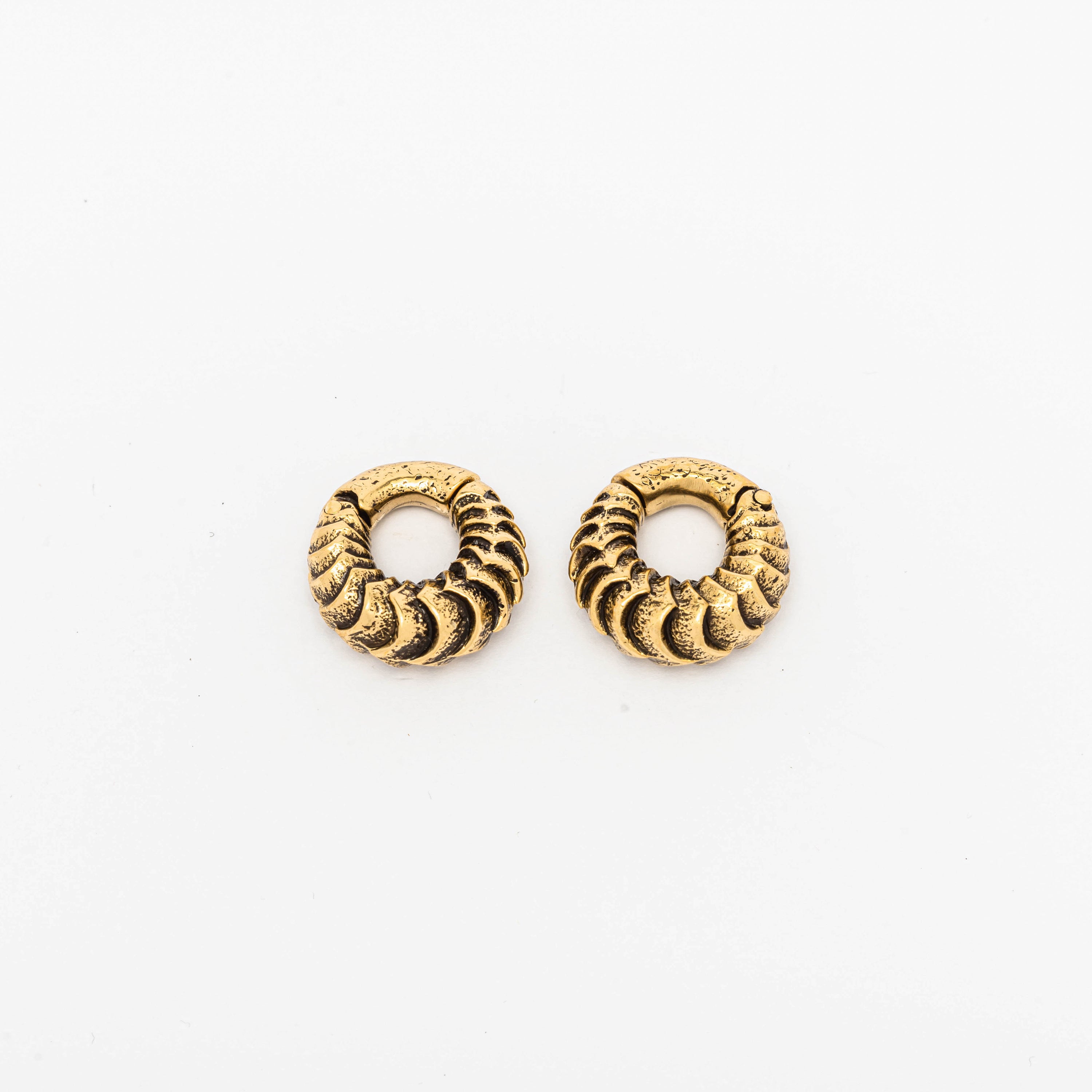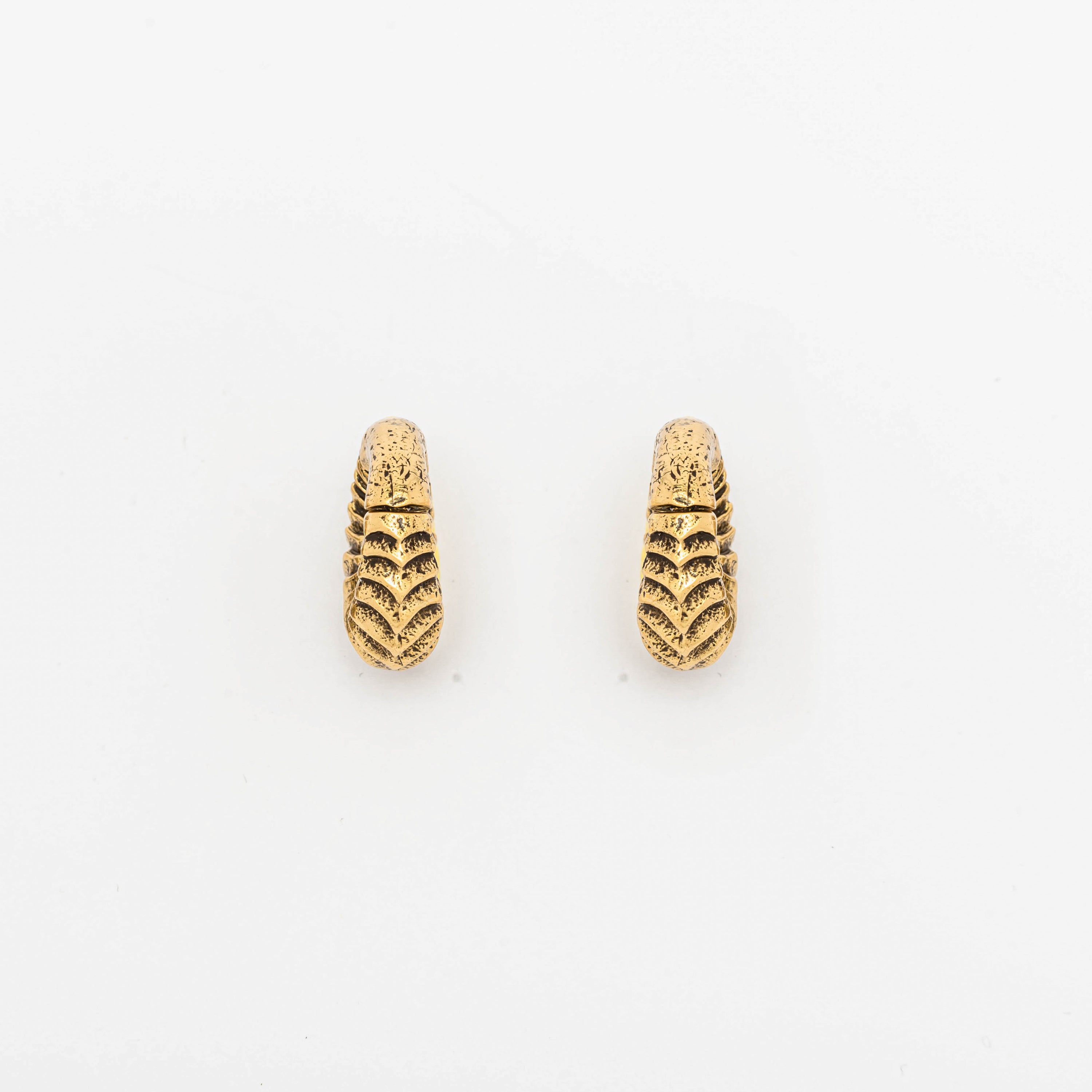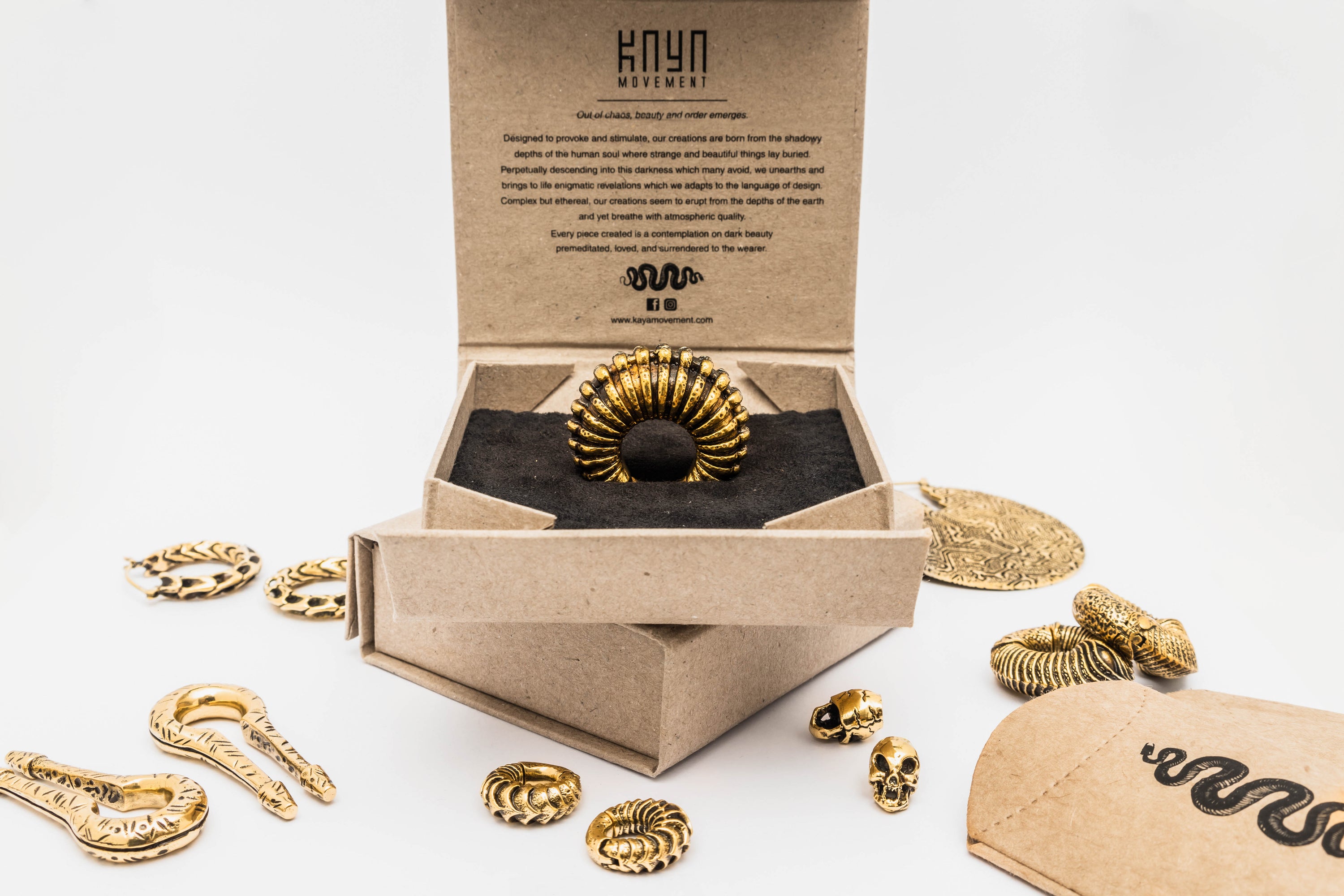 AARO Cyborg Clicker Hoop Ear or Septum Weights in Gold Brass | 6 gauge
Cyborg biomechanical hoop clicker ear or septum weights. Small futuristic gold brass circle hangers. Unisex 6 gauge plug earrings for stretched ears or stretched septum piercing. Dystopian visionary sci fi vibes. For festivals like Burning Man, underground techno raves & daily street wear. Shop post-apocalyptic body jewelry and piercings by Kaya Movement.
For 4mm (6 gauge) and above stretched ear lobes or stretched septum. Lightweight for comfortable daily use. Won't stretch your ears.
Size & Weight
Outer diameter: 19mm
Inner diameter: 8mm
Thickness: 8mm
Weight: 8g per piece
Material
Yellow Brass
Closure

Clicker - simple click to close
All our jewelry is packaged and sent in an elegant, reusable box which is also perfect as gift packaging.
Have questions about size?
Get in touch with us anytime. Everyone's anatomy is unique so be sure to measure before deciding.
AARO Cyborg Clicker Hoop Ear or Septum Weights in Gold Brass | 6 gauge
Fast shipping
All orders are shipped within 48 hours using Standard Shipping with Tracking Number via France LaPoste Service.
Order tracking
Once your order is shipped, you'll receive a tracking number so you can keep tabs on your parcel's movements.
Easy 14 day returns
Could be better? We're always reachable and happy to assist in any way.
DOPE!!!
Straight up amazing. Exactly the aesthetic I was looking for, so much so I found myself using it for a septum as well as ear weights.
All around great buy, will be back for more!!
Cerebral Design, Conscious Craft
My aesthetics are influenced by cyborg & biomechanical forms, post-apocalyptic & dystopian worlds, neo tribal punk aesthetics, visionary art, fractal patterns and sacred symbols. Working as a cross-discipline designer, I apply 3D design & printing, Illustrator, lost wax casting, and hand-tailoring in creating beautiful hybrid designs. As an emerging sustainable brand, my collections are ethically produced in small batches in a slow and meaningful way.
Explore the Movement
Explore other collections